We know that the children are the future and it is vital that they know their identities in Christ at a young age. The following classes are available on Sunday Mornings. I look forward to sharing the love of God with your kids!
Brittany Miller (Children's Director)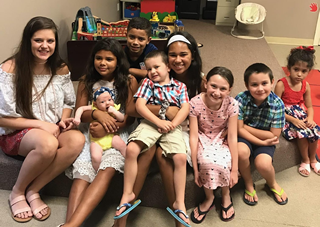 KIDS CLASS
Ages 5+
ALL CLASSES SUNDAY MORNINGS
Corporate Prayer
"My house shall be called a house of prayer."
Matthew 21:13
Prayer is the most vital of all ministries in the church. Coming together as a church family interceding for our nation, communities and our families is of utmost importance at Journey of Faith church.  "When we pray we are demonstrating our belief in a power that is greater than our own." anonymous
Pastor Robin leads prayer every Sunday at 9:30am.
Grace Girlfriends
Grace girlfriends is designed to bring ladies together to encourage one another in our faith journey. Our motto "When we allow our identity to be found and defined in the Grace of Jesus, we gain an understanding of our incredible value." When we know our value then we can effectively share the love of God to our families and friends.
Check events for dates and times